Best Online Ordering System for Restaurant
Sign Up Today
Tell us a little about yourself and we will be in touch shortly
Please fill out all required fields.
Are You Ready For ReOpening?
Deter COVID-19 & Give Diners Peace of Mind
With
QR Code Ordering System and Payment
SCAN
Guests scan QR code in your restaurant with their phone ...
SEE & ORDER
... to see your visual menu and place orders ...
PAY
... and eventualty make a payment.
NO User Login or App Download Required
---
NO CONTACT
COVID-19 is life-threatening. Provide a safe environment for your customers and staff by eliminating the need for unnecessary manual exchanges of paper menus, bills, cash, or credit cards between your servers and guests, using our restaurant online ordering platform.
Smart Menus
Our smart menus let you have multiple food or drink menus, update them instantly, and display available menus in a visual format to customers in real-time. Integrate our visual menu into your restaurant online ordering system.
Save Money
Reduce your expenses on paper menus, servers, and POS systems. Printing menus regularly is costly. Go digial to save and be environment-friendly. Our digital ordering and payment system frees your servers' time and increases productivity. It also removes the need for additional expensive POS systems.
Simple & Convenient
Our visual menus are easy to navigate and simple to use with no need for users to log in or download apps on their phone. People can use our smart menus to see dishes & cocktails and place orders. Payment is hassle-free with no waits for servers to bring checks and process credit cards. For dine in orders, users can open a tab, add to it, and then make a payment at the end.
---
Get Orders Commission-Free at $0 Monthly Fee
Online Ordering
Add visual menu or QR code to your website to accept pickup and delivery orders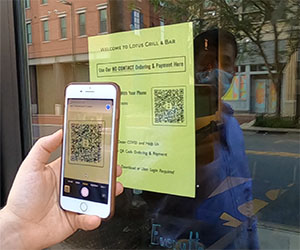 Storefront Ordering
Offer takeout orders at your location safe and easy for your guests and staff
Table Ordering
Make dine in orders safe and simple. Free waitstaff time and save expenses
Our Services
Professional
Photography
We photoshoot your dishes and cocktails if you don't have their photos
Online
Menus
We present your menu on our platform, which lets people discover top dishes nearby and get food recommendations.
NEW
QR Code
Ordering & Payment
We let diners see your menu, place orders, and pay on their phone, at your location or order meals online via the restaurant website ordering system.
Menu
Displays
We provide you with interactive menu displays for outside to convert passers-by to guests within minutes
MENU DISPLAY
Showcase your food and cocktails with our interactive menu displays to bring people in within minutes right from outside
Product Features
Plug & Play (One-time Setup)
Online Dashboard to Make Menu Changes Instantly